FNQ Dance Academy (FNQDA) kicked off their 10 year anniversary celebrations with a sell-out concert spectacular 'Decades of Dance' at Cairns Performing Arts Centre (CPAC) late last year.
This was a sentimental moment for owner Sarah Thorne, as the show featured 10 graduating year 12 students with most of these dancers being foundation students who had been with the school since it was established 10 years ago.
According to Sarah, FNQDA was born in 2011 after spotting a gap in the market for a performance-based school that specialised in providing foundational learning for dancers under five years of age.
Combining her experience as a physiotherapist with a special interest in paediatric development, and a long dance and teaching career; Sarah's dream of opening a school that not only ticked the boxes of tuition and performance – but focused on the physiology and personality of each individual, was quickly embraced by Cairns and Far North Queensland's dance community. It is now one of the largest dance schools in Cairns with over 400 enrolled students from ages two through to adults.
"I believe what sets us apart is our transitional programs from 'babies' and 'tiny tots' to adults, while incorporating both syllabus and recreational based curriculums.
"FNQDA really is three schools in one. We have our tiny 'stars of the future' developing their gross motor skills, recreational dancers who dance for fun and fitness, and finally those dedicated to the craft, who undertake graded exams, and compete nationally with aspirations of a future career in the dance industry.
"Be it a serious commitment or just for fun, there are so many positives of dance training from promoting discipline and good posture, to resilience, self-regulation, coordination, teamwork and confidence.
Spanning all dance genres from classical ballet en pointe to lyrical, jazz, tap, musical theatre, contemporary, and hip-hop, FNQDA has something for everyone, from ages two through to adulthood.
"The academy has come so far in the last 10 years, I cannot wait to see where our journey takes us in the next decade!".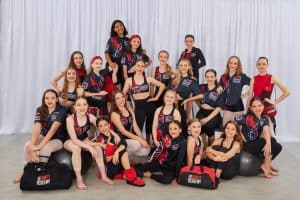 To express your interest in receiving an enrolment information package for 2022, visit the website http://www.fnqdanceacademy.com.au or email your enquiry to admin@fnqdanceacademy.com.au