Meet Linda, she is a resident at Mount Peter Estate for the past 4 years and enjoys coming home to the lush green surrounds, the mountain views all around, going for walks, catching up with other residents and hearing the activity of birds chirping and families playing.
Her lifestyle has changed dramatically, it all happened in quick succession, and she readily admits it was all a bit of a shock. But looking back there were 5 major events that changed the course to land her dream home.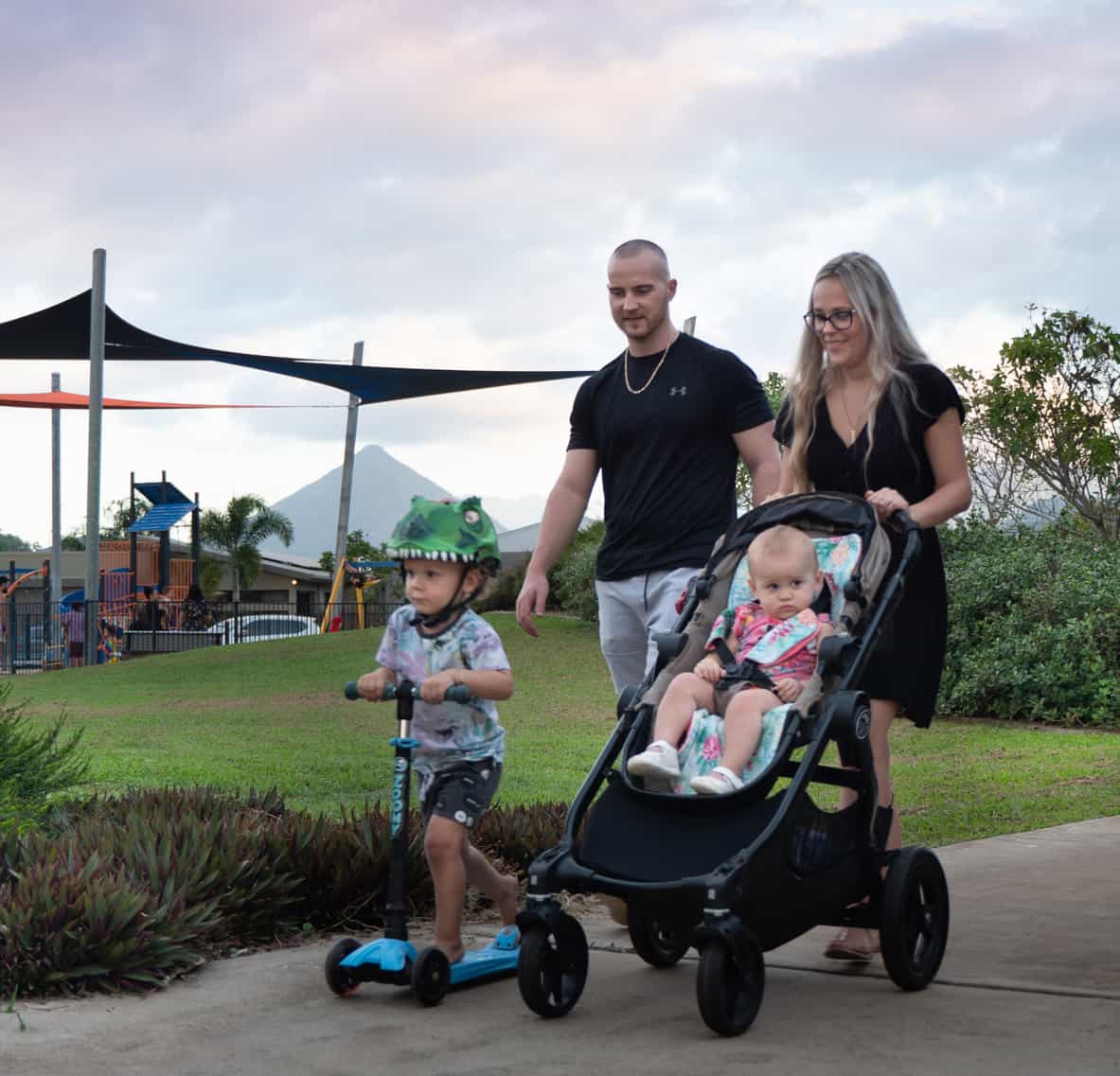 Step 1: Take a look first hand
I had been living in my previous residence located further south for over 20 years. I did not think it was possible for me to own a home, but I drove past Petersen Road every day, I had heard about the estate so I thought I'd have a little look as you do. It was really early days in the estate, but you could see how picturesque it was, so it struck me that I could actually see myself living here!
Step 2: Open day inspection
There was some event to signal some of the houses were now open to inspect so I went along to see everything again. There was this house that was tucked away a bit, and actually walking through at my own pace and seeing the layout, seeing the finishes, and then going out the front door and thinking, this is just right for me, a bit more secluded than some of the other options, it just sat well with me, but I still had doubts that financially I had a case for obtaining a home loan.
Step 3: Meet with the broker
I met with the broker, and laid out my financial position and waited with bated breath. It's a bit nerve-racking presenting all the money you have and crossing your fingers it's not rejected. He worked some numbers through and just said he couldn't see any issues at all! Once confirmation came through I couldn't believe it. From there everything sped up super-fast.
Step 4: Present the offer
Once we knew how much I could borrow, I put forward an offer and was thrilled when it came back accepted. It only took a few days to put the paper work together and sign, then settlement was within a month. That was back in 2017, the process might be a bit different now but I just remember it all happened just like that [clicks fingers].
Step 5: Moving in
It was so exciting getting settled in. I go for walks every day, usually around 3km, mainly within the estate but sometimes I go out on Mount Peter Road by the cane fields. A lot of people have the same idea, there are a lot of mothers pushing prams but there are also retired couples walking their dogs. So, you'll say hello but sometimes stop for a chat, it's very community minded that way. You see a lot of families use the park space in the afternoons. It's nice to see people out and about making the most of good weather and facilities. Last I heard there are over 200 households in the area, so that's quite a few families now from when I moved in.
You get the nice skies in the morning over the mountains on the east side, and in the evening,  you get views of the sun going down over the mountains to the west, it is perfect for getting out. Even though it is set amongst cane fields it does not feel like farm living. It is great when the sugarcane flowers and brings in even more bird life than usual.
I am only 16kms to town. People say "oh you live all the way down there" – but understandably where I have come from, it doesn't feel far at all, it's the right fit for me and 4 years on I can say it's been the best decision to move, but for it to be my own home makes it even better!
So, as you can see, it's exciting to see the growth of Mount Peter Residential Estate into a thriving community. Anchored by Mackillop Catholic College and Mount Peter Early Learning Centre, families can be assured they are looked after and supported as they continue to add shops, sporting facilities, and nature trails in the future plans which will only enhance the lifestyle experience.
In the early days there were finished houses ready to inspect as per Linda's experience. Right now, with the recent high volume of new homes mid-construction Kenfrost Homes do not have a number of finished homes to inspect. However, they have a display home at Lot 709 Crater Elbow, and the Information Centre on Homevale Entrance is open daily 11.00am – 4.00 pm with the team on hand to answer any of your questions- no appointment necessary so give them  a call or pop in to say hello.