When choosing to spend some time outdoors in Cairns with the family, many people will immediately look to the stunning northern beaches or take full advantage of the facilities along the Esplanade.
But if you are searching for somewhere different to enjoy some time with the family, it is worth checking out the array of parks and playgrounds to the south of the city, which offer plenty of engagement for the little ones and even the chance for some fauna and fitness for older children and parents.
Here is a list of some of those facilities that are all suitable for the kids and a fun filled family day out.
Sugarworld Parklands:
With its welcoming open green spaces and mature shady trees, this expansive park also offers visitors a glimpse into the area's past with a range of historic artefacts from the former Hambledon Sugar Mill and interpretive signage.
Parents can feel safe in allowing their children to play in the large fenced, all abilities playground. There is plenty of parking, toilets, barbecues, shelters, trails and a botanic garden. Cairns' only water slide park is also located here (entry fee for the water slide park).
Where: Hambledon Drive, Edmonton.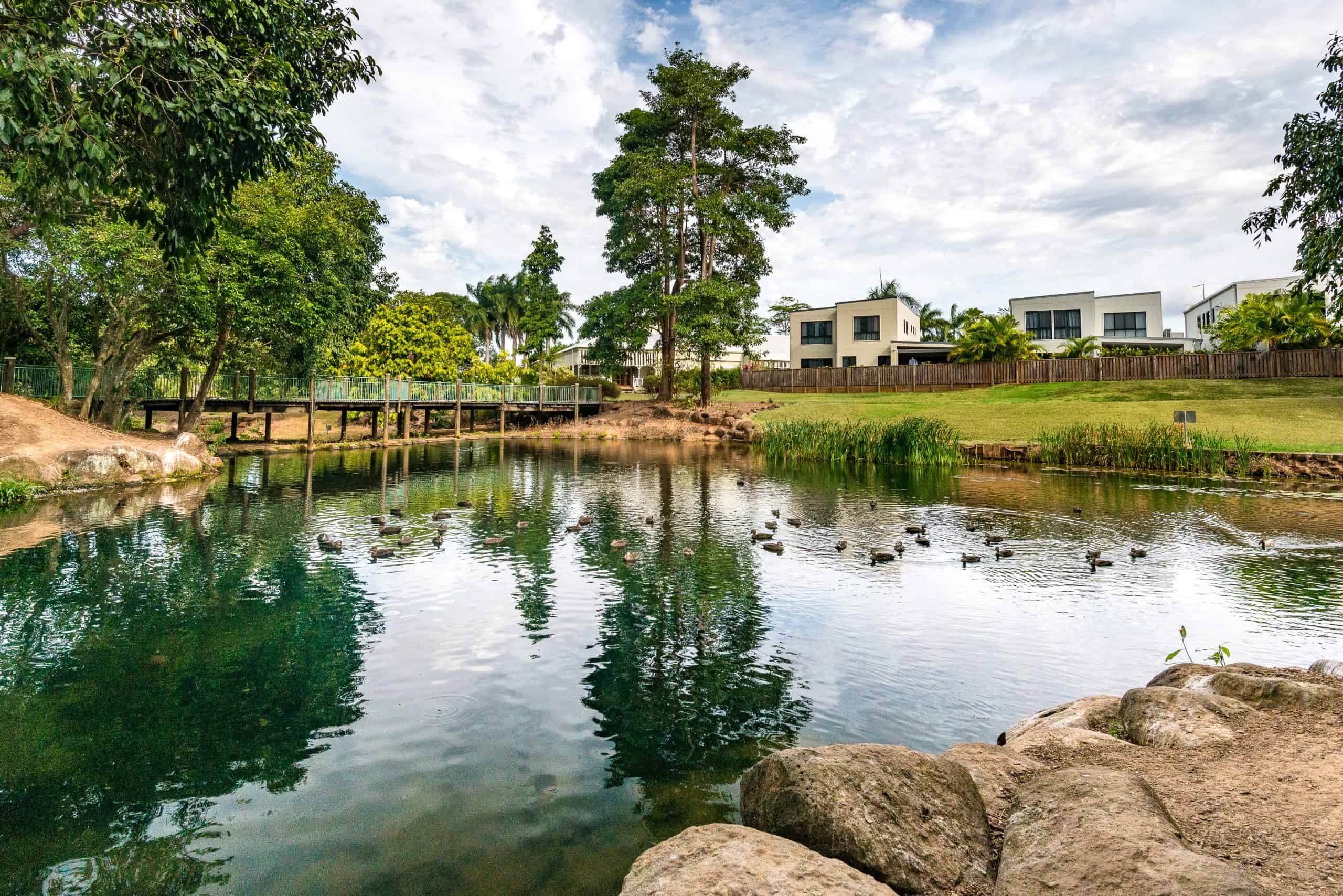 The Lakes:
This scenic location in Forest Gardens features an array of facilities, from sports courts and a playground, to a duck pond and barbecues.
The park has a tennis and half-basketball court, while the playground is colourful and entertaining, with slide, swing set and spinning gear to keep the kids entertained. Families can walk their dogs on a leash along the paved pathways and trails through the forest or feed the ducks at the lake.
There is plenty of tree coverage to provide protection from the sun, while sheltered seating areas and barbecues are available for picnics.
Where: Forest Gardens Boulevard, Mt Sheridan
Ravizza Park:
With its fitness equipment, basketball court, cricket pitch and sports field, this multi-purpose outdoor space will suit active families.
A brightly coloured playground set under sails provides excellent entertainment for children, while parents can set up meals at the park's sheltered picnic areas. Trees line the park edges, providing a suitable and shaded walking track and fitness circuit.
There is also an electric barbecue and public toilet facilities.
Where: Ravizza Drive, Edmonton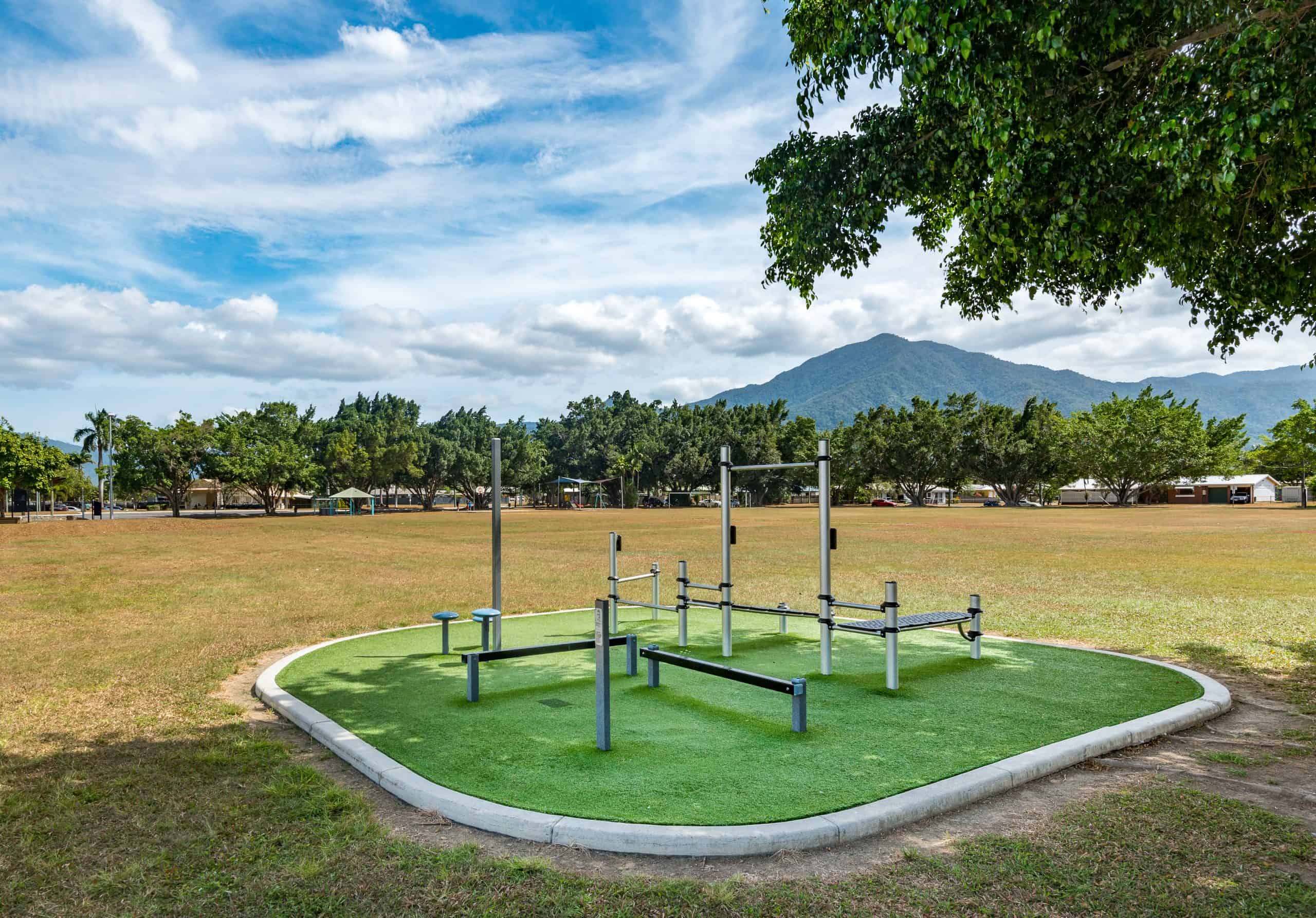 Todd Park, Bentley Park:
This is another park that will suit families who enjoy lots of sporting activities. Providing an outdoor entertainment space for active youths, Todd Park features football goals, skate and BMX tracks and a basketball court.
Families will enjoy the convenience of off street parking, while trees encircling the park offer plenty of shade.
Where: Robert Road, Bentley Park
Tom Murray Park:
Set on a wide, open field, Tom Murray Park is perfect for long walks and picnics in the park's sheltered seating zones. Kids can set up a ball game on the oval, making this outdoor space suitable for the whole family.
The park itself showcases some of Mount Sheridan's best views, with the mountain visible at one end of the walking track. Other features of the park include a walking track loop, fitness equipment, toilets, and ample car parking.
Where: Hardy Road, Mt Sheridan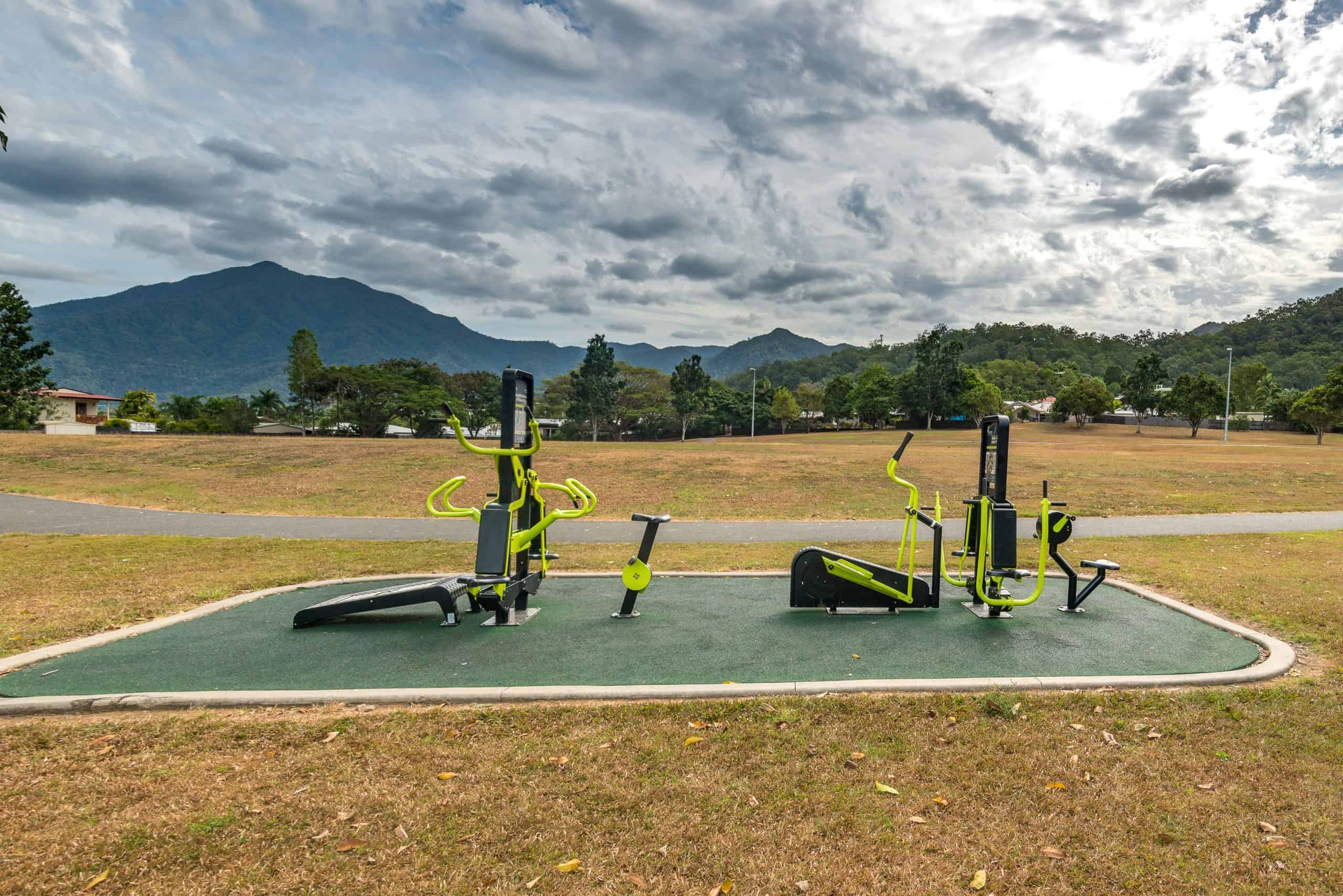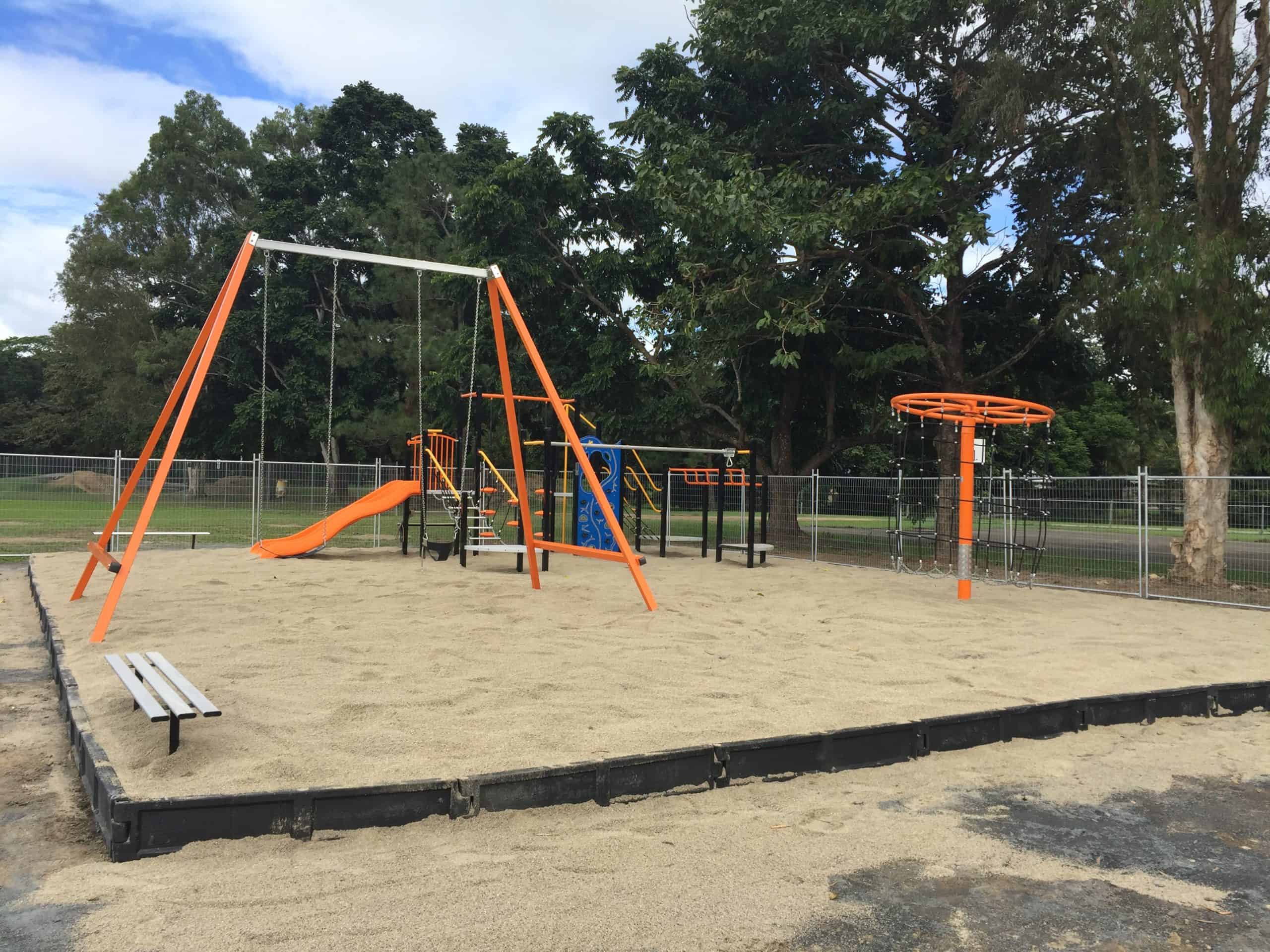 Fuller Park:
This is a beautiful park that offers a variety of facilities to keep all ages well and truly entertained. There are playing facilities that will occupy the teens, including a basketball court and BMX track.
The play equipment is simple but suitable for young children and features swings, climbing ropes and a sandpit. Adjacent to the playground is a large sports oval perfect for a game of football or soccer, with a cricket pitch in the centre of the field.
Public toilets are also available here, while park benches are located throughout the park as comfortable rest zones. A fenced dog off-leash area with a separate area for small dogs is located at the southwestern side of the park.
Where: Wolff Street, Edmonton
Norman Park:
Located in picturesque Gordonvale, Norman Park is encircled by the town's main town streets and offers an expansive area with lots of grass, playground and fitness equipment and plenty of shelter.
The shaded play equipment, which features swings and slide, is perfect for the youngsters, who will also enjoy exploring Cane Toad World, while fitness equipment is available for adults. There are electric barbecues, picnic tables and shelters make it an ideal spot for a family picnic.
The park incorporates historic signage and a war memorial, while the Bungarra Heritage Trail, links Norman Park to the Greenpatch Campgrounds. Norman Park is also the venue for the Gordonvale markets, which are held on the first Saturday of each month from February to December.
Where: Norman Street, Gordonvale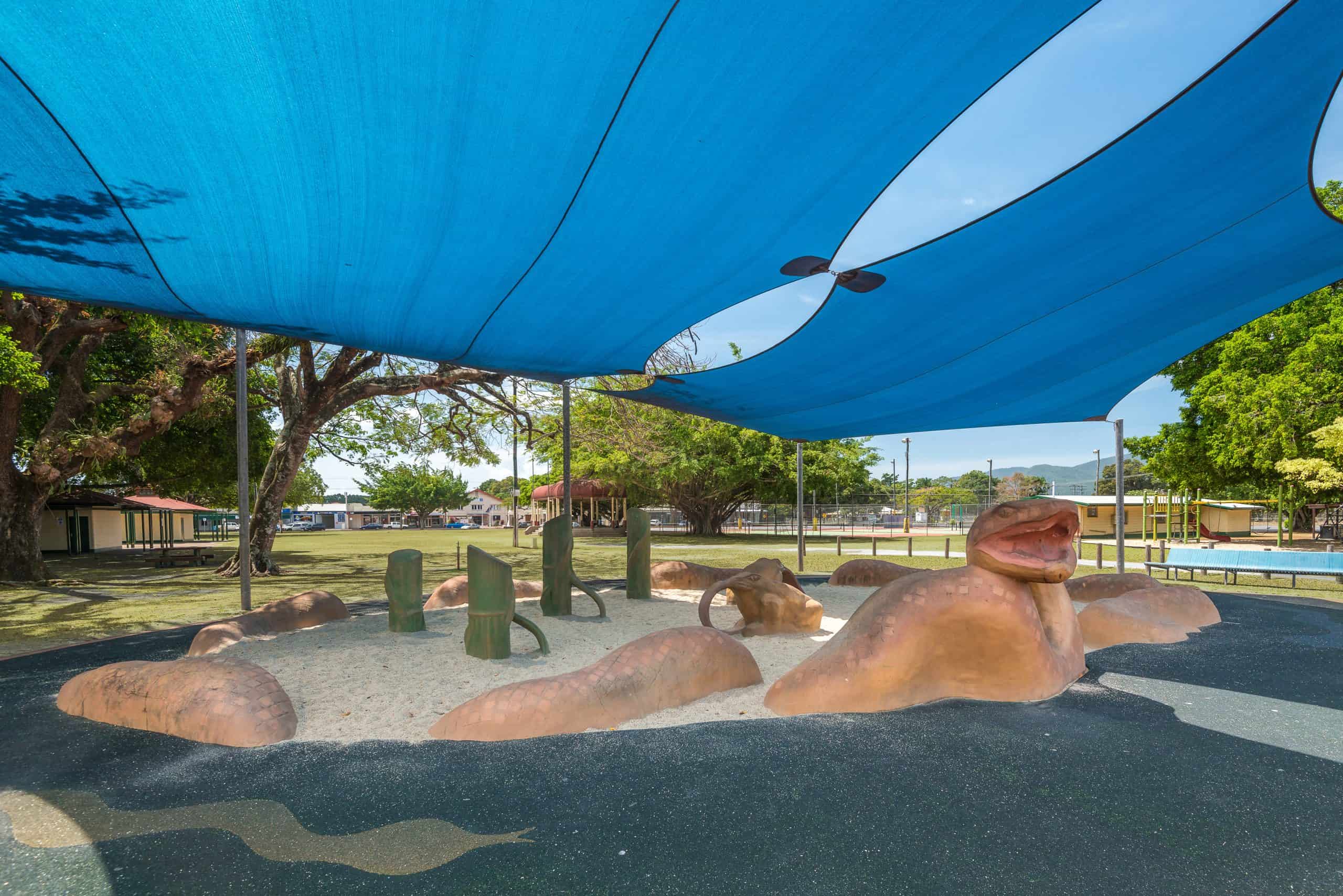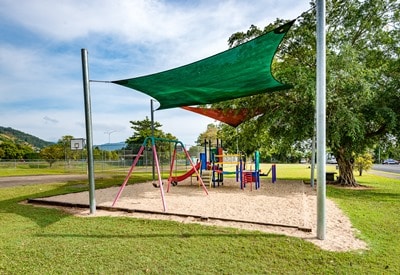 Bak Park:
With a tennis court, basketball hoop and colourful climbing equipment, Bak Park Playground in White Rock works well as an exercise site for the whole family.
An open grassland area is perfect for picnics, with large trees throughout providing shelter from the sun.
Mountain views to the west make this a scenic location. Facilities at this site also include benches for picnics and public toilets.
Where: Progress Road, White Rock