Conversations about climate change heated up in Cairns this week as more than 150 people joined a series of forums hosted by Council as part of the development of the Cairns Climate Change Strategy 2030.
Three climate summits were held at Tanks Arts Centre for school children, industry and government, and community members to help set a pathway towards net zero emissions in Cairns and build our 'green economy'. More than 30 school children from 16 primary, high schools and traditional owner groups across the Cairns and Tablelands regions were represented at the second Cairns Youth Climate Summit on Wednesday.
They pitched their ideas to industry representatives and councillors from Cairns and the Tablelands. They spoke about the need for a circular economy, improvements to our built environment and a desire to work together as a community on solutions.
Around 100 local industry, government, Traditional Owner and community representatives representing the sectors of transport, energy, natural resource management, health, planning and sustainability provided feedback on the strategy and shared their ideas for its development. Cairns Mayor Bob Manning said the summit's built on data collection, community surveys and workshops with experts held earlier in the year.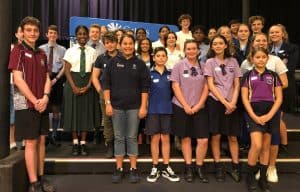 "Our climate strategy will focus on Council's own operations as well as setting out actions to support the community in achieving the Queensland Government's net zero emissions target by 2050,' said Cr Manning said.
"We have an important leadership role to play as a Council, and we have a responsibility to our youngest citizens to do what we can, to lead by example and, importantly, listen to what our young people have to say."
The council will use the information gathered in workshops, surveys and community engagement earlier in the year to prepare a preliminary draft of the Cairns Climate Change Strategy 2030 later this year. The draft will go to Council and be shared with the community for feedback before it is finalised.
Students involved shared their opinions on the Summit
Isabella Bostok Babinda State School
It was really inspiring to have the councillors listen to us, the young people of Cairns because we are going to be the ones dealing with the problems of climate change. We have so much to say but sometimes are not listened to, so It was really nice to have the older generation listen to us. My hope for the future is that we can all participate and maintain a circular economy in Australia, where we are not wasting things, we recycle, re-use and products are designed to be used again and given new life.
Jasmin McGahan Smithfield State High School
We got to learn about innovative ways and worked with industry partners to help resolve climate change. The highlight of the climate summit was working with industry leaders from Council and Ergon Energy to help find innovative energy solutions.
Jessica Roe Smithfield State High School
My favourite part about the climate summit was to meet with young inspiring people about an issue we really care about.
Joshua Le Cong Cairns State High School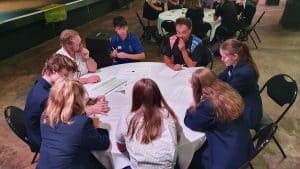 I've always been interested in environmental sciences and I'd like to see to an improvement in the research and development of sustainable energy sources and I would to see that and progress and progress.
Charlotte Shaji Peace Lutheran College
I came to the summit to be able to share my ideas and to come up with solutions to issues like pollution, endangered species. I want us to come together as a community because I think we will be able to better make a change if we come together.
Lily Fourmile Mackillop Catholic College
We did research on transportation and our answer was that we should use other types of transport without oil.
Using oil makes the planet hotter and hurts animals, plants and the environment.
Louis Morandin Ravenshoe State School
At the climate summit we researched sustainable ideas and ideas for the future. We want to change how buildings are made so they don't use so much energy. Improving airflow and orienting buildings to it improves the airflow and slows down the heat and urban sprawl to improve the environment and our city. As climate change progresses, it's going to keep getting hotter with, as we're in the tropics, is no fun for anyone. For us, the environment and the animals, it's important to manage this heat.